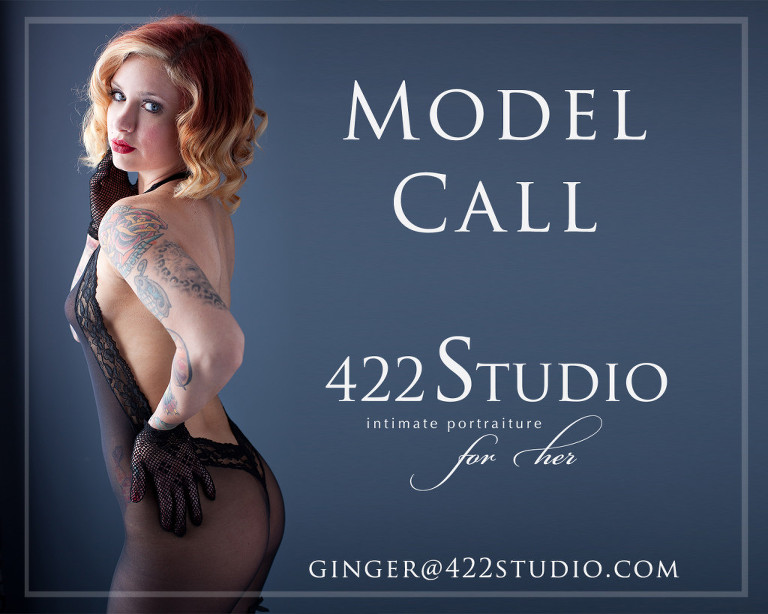 422 Studio is looking for models.
I'm really excited for this summer. I am continuing my education by taking classes taught by some of the top photographers in my industry and will need to practice the sexy new pose coaching skills I'll be picking up during these workshops. I immediately thought to ask my wonderful clients and fans for models. I'm not talking about professional models here. I want women, just like you, to have the model experience for the day, therefore I'm not putting any  age or body type restrictions on these sessions. I'm looking for all ages (ok well this is a limit, 21+),body type, hair color/length etc. If you are a woman who would like a day of pampering and the chance to feel beautiful and sexy in picture then this is your chance.
$100 for all of this:
– email support and phone consultation for planning your Model for a Day photo shoot
– wardrobe styling assistance, including my online style guide
– full makeover with professional hair styling and makeup
– 60 minute photo session
– several wardrobe changes
– expert coaching on posing and expressions
– beautiful lighting in a professional photography studio dedicated to boudoir
– at least 40 images for viewing and ordering
– in-person portrait reveal and same day ordering session
– $150 credit towards your favorite images/products
A full model release is required for these sessions, including a before shot, no exceptions. Products are available a la carte and are not included in the $100 session fee. The full product guide will be sent to you before booking.
I have sessions available now through July 31st. All Model for a Day sessions will take place in my Richmond, Virginia boudoir studio.
If you have additional questions or you are ready to schedule your model session contact me today by clicking here.