First off thank you all so much for your patience with the delay in announcing this months Monday Muse. I have be super sick with bronchitis and am finally on the mend. This month we only have time for 3 openings for the Monday Muse sessions. They will go quickly so be sure to check the pin board and if it looks like something you're able to sign off on the follow the directions to submit for consideration.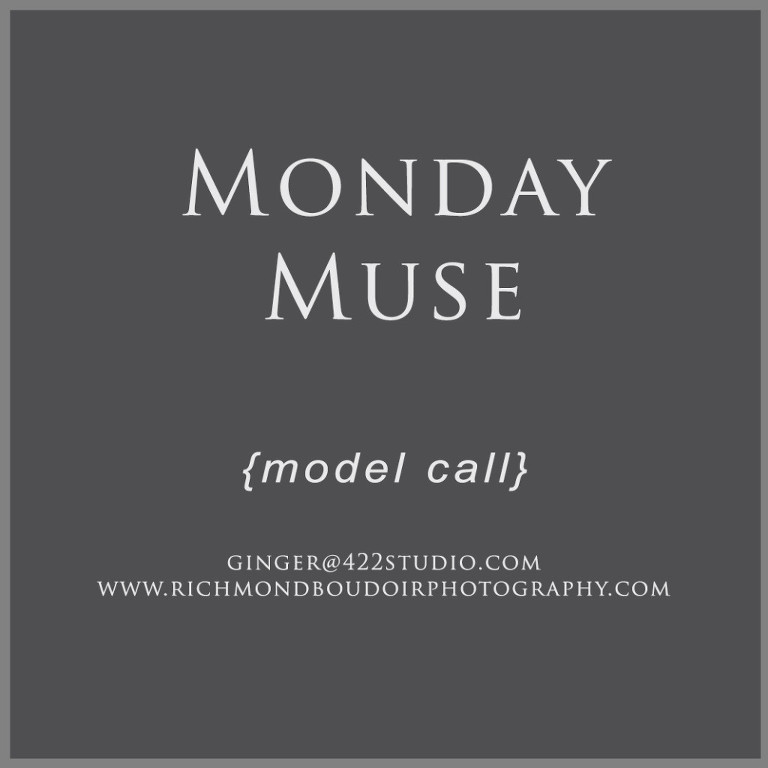 Details  What I'm looking for: This month I am looking for just 3 women, age 21-45 for specific Mondays in March. These sessions will take place in my Richmond, Virginia studio. Makeup and hair styling is included in the session. You will need to supply your own wardrobe which we'll discuss before we schedule your date but should take inspiration from the pin board. I am wanting to test out new posing techniques, studio sets and to get more images for my studio styling guide.  I'm open to all ethnicities and body types for this month. Again we'll be more focused on wardrobe styling and creating the right mood with these images. I will be using the images you order for your album in my portfolio, samples, website, social media and where ever else I may need them.
What's in it for you:  These are not freebie sessions or TF sessions for aspiring models.  I won't edit or use images that don't get ordered. I want the images on my site to be of actual clients rather than pro models. What's in it for you is that you have the opportunity to collaborate on a session with the area's award winning, all female team, exclusively boudoir, photography studio. You get to spend the day being pampered with hair and makeup styling and having a confidence building boudoir session. You get the full boudoir model experience for a day. We'll create gorgeous images that you'll want to have for years to come. Your session fee, normally $350 is on the house. You do pay a fee of $99 however it's credited back to you as product credit on your order PLUS you get an additional $50 product credit.  That's $149 in credits to use toward the purchase of your album on the day of your session. Plus you'll get total bragging rights for being super hot and featured on my site. Now if that's not reason enough to do this then I'm not sure what is.
You must:
be willing and able to sign a

full model release

for these sessions. NO exceptions!
be 21-45 years of age
be available to shoot on one of these Mondays in March 7, 21, 28 of 2016
pay a $99 session fee (remember it comes back to you as product credit for use

only on the day of your session

)
be a new face to the studio so if you've done a session with me in the last 18 months you're not eligible
be willing and able to acquire wardrobe with the look/feel of the pinboard for the month
Ok ladies here are the steps for signing up for this months Monday Muse session.
Go take a look at the Pinterest board. If these ideas excite you go to step 2.
Email me ginger(at)422studio.com to send me 2 pictures of yourself. 1 headshot and 1 full body shot.  Send pictures with no filters or editing and with your hair down. Also tell me why you think you'd be a good fit for this months theme.
When you have done step 1 and 2 I'll send you the Monday Muse questionnaire, please fill it out ASAP as there are only 3 openings and they will go quickly.
I will review all completed questionnaires and chose the 3 women that I think fit the project best.  You will be notified via email if selected. I will decide by March 3rd so you only have about a week. Don't delay!
422 Studio is located in Richmond Virginia and serves the DMV area and beyond. Providing boudoir photography for Williamsburg, DC, Charlottesville, Virginia Beach, Fredericksburg and ladies all over the fine state of Virginia.