"I am so excited to do my boudoir session with you and I've been looking online at lingerie for inspiration. The only problem is I don't love my stomach since I had my kids and I'd rather not show it off. What do you suggest wearing? I still want to look sexy but the idea of wearing a bra and pantie set makes me nervous"
I see this question from so many of my clients. It's a completely legitimate concern and frankly one I share with you.  I've had 3 kids and my stomach looks like a road map. Trust me when I tell you it's not my favorite of my parts. I first want to tell you that you are far more concerned with your tummy regions appearance than your partner is. Trust me! He isn't going to look at your pictures and see your "defects". First he's going to see the woman he loves looking sexy as hell. Then he's going to want you to show off all of that lingerie he saw you wearing in your album. Now, I can tell you this,your best friend can tell you this, even the consultants at the lingerie boutique can tell you this, but when you come in to see me and you're putting on your lingerie it doesn't matter what anyone has told you. All that matters is that you feel confident and sexy in your wardrobe choices. I'm here to tell you that you can, in fact,  feel sexy, look great and NOT be covered from head to toe. Finding wardrobe pieces that suit your style and comfort level is probably the most important part of planning for your session. If you don't feel confident in what you're wearing it will show in your images. If you don't love the piece of lingerie you're thinking of purchasing put it back, walk away and find something you feel drop dead sexy in.
"When you look good, you feel good. Confidence with what you're wearing is very important. If you feel good, you will always perform your best without worrying about anything."- Maria Sharapova
Now having said all of that how about some quick tips for shopping for this particular trouble spot.
6. Proper fit matters! This is a big one. Your lingerie should fit comfortably. I suggest that you go to your local boutique and have a professional fitting done, you may be surprised by what they tell you. I thought I was a DD and was shocked to see that I was an F. Your panties should fit properly as well. Panties that are to tight will pinch, poke and create "muffin top". Panties that are to big will gap, puff out and not hug your bottom in the most flattering ways. Your panties should fit comfortably and create as smooth a silhouette as possible. Try different pantie cuts as well. Briefs such as a boy cut, high waist, and hipsters can all be very flattering and tummy concealing. Remember that you may be a different size in a different cut. A medium boy cut and a medium hipster will not fit the same way. Go with what fits best, not with what the size on the tag says. Also have fun with your pantie choices. Look for cute booty details like a bow, keyhole or ruffle and sheer or stretch lace fabrics.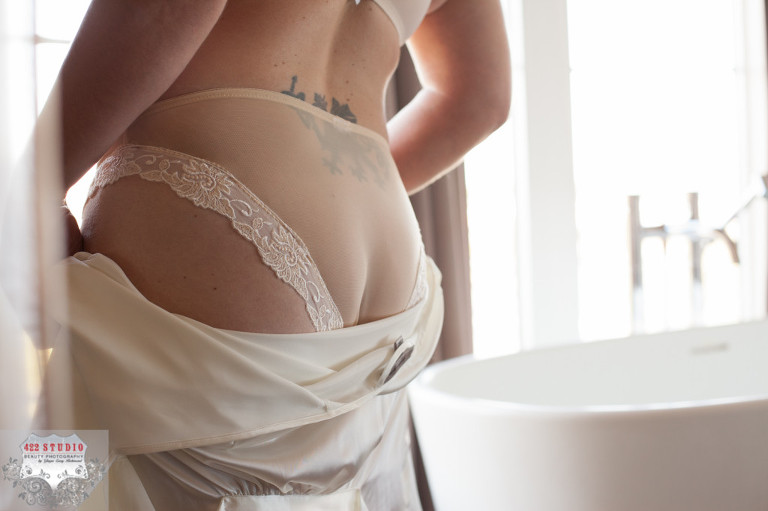 5. Cover Ups. When you just feel better not showing it at all there are some trusty, and very very sexy, pieces that I suggest. First off high waist panties are just plain hot. They aren't the horrible granny panties that you may remember from your grandma's dresser. You can find beautiful styles from retro shape wear types, to your favorite animal prints and elegant laces. A high waisted pantie with a matching bra, and sexy heels will make you feel like you've got legs for miles and no tummy trouble in site. Of course any lingerie style that fully covers your midsection like a corset, bustier, teddy, body stocking or bodysuit can do the trick too.  Many of them come with the most awful g-string pantie. Throw that thing out and get a matching pantie in a cut that suits your body. You may want to make sure that the top of your pantie touches the bottom of your top so you have no gap between the two. There are so many styles and cuts of these pieces that I strongly suggest you go to one of the Richmond area's many fine lingerie boutiques and try on several different styles. Don't hesitate to ask for help, these women know lingerie like it's their job, because it is.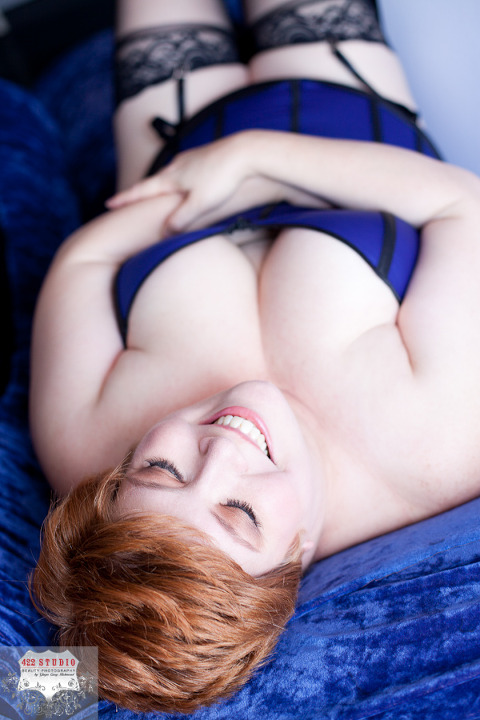 4. Sheer fabrics are our friend. Sheer fabric is wonderful at minimizing skin texture while still giving a peek of what lies beneath. Sometimes the mere suggestion of skin is enough to make him stand up and take note. Look into lace slips, sheer camisoles and teddy's even body stockings can all give a glimpse of what you've got to offer without giving away all the goods.  You can find shape wear that is sheer or sheer in parts. You can also pair a very sheer blouse with a much loved bra and pantie set.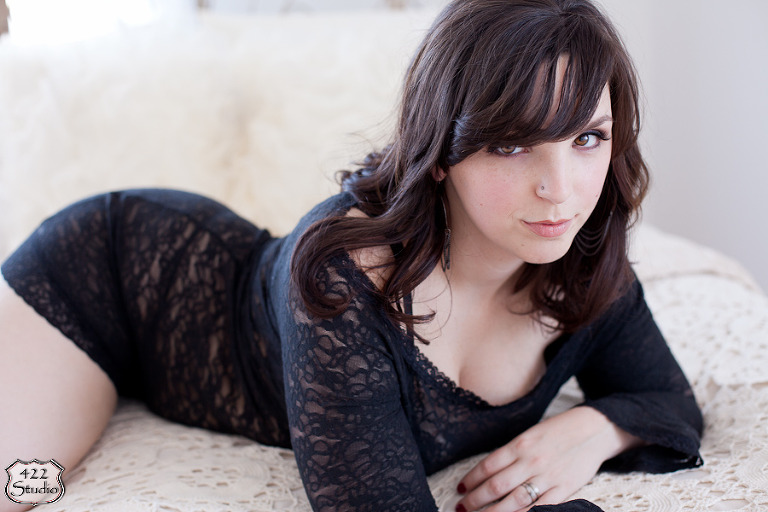 3. Beware of trends and costumes. They may seem like a good idea at the time but once upon a time we all thought Glamour Shots was the best thing ever. Keep it classic and stylish.
2. Try something new. Most of us have our standard go to sexy time lingerie style. Try different styles, baby-doll, camisole, slip, negligee, corset, bustier.  Also experiment with different types of fabrics. The fitting room is the best place to try out something new. Just be sure to stay true to your personal style. If you are not an over the top frills and fluff kind of woman don't compromise your personal style by getting something to frilly.
1. Find pieces that emphasize your positive physical attributes while minimizing what you'd like to minimize. This is important because keeping your positive physical attributes in mind keeps you focusing on the things you do love about your body and it builds your confidence. So tip #1 is Love what your mama gave you. Confidence is sexy, try it on for size.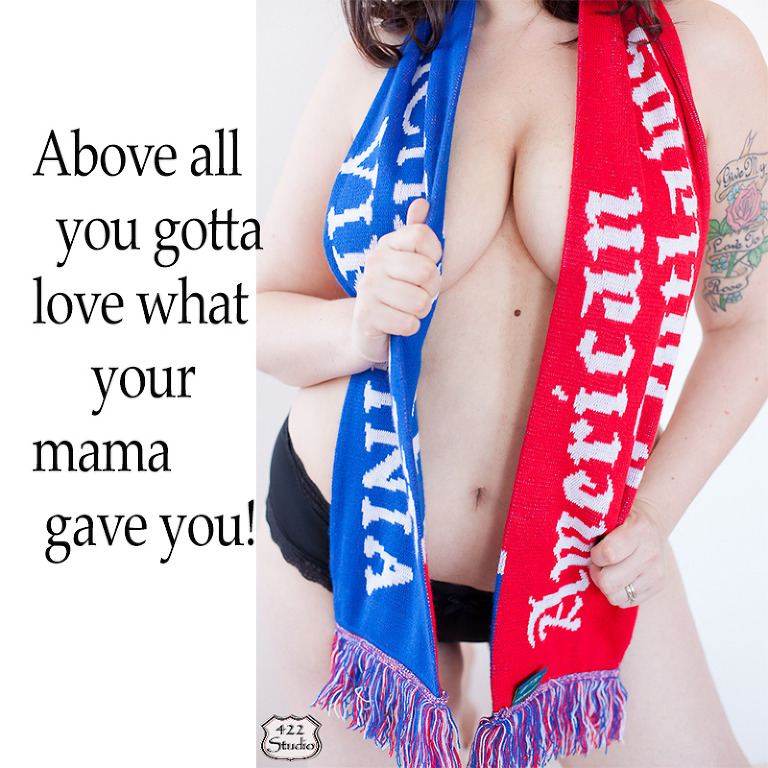 I hope this has been helpful! Remember too that when you schedule your full session with 422 Studio you will have your own, personal style consultation.
–Ginger
422 Studio is the studio in Richmond, VA for all of your beauty photography needs.
2405 Westwood Ave Suite 201
Henrico, VA 23230
804*833*0888 ginger [@]422 studio.com