With so many couples getting engaged around the holidays I think it's a good time to talk about styling for your bridal boudoir session. I've put together a couple of looks to inspire you, something bold, something blue. You want to keep your bridal styling classic, not costumed. Try working in a few of your wedding day pieces like your garter and bridal shoes. Your veil is another piece of your bridal ensemble that makes for beautiful boudoir images. If you've purchased honeymoon lingerie it's a good idea to include that as well. Lingerie parties are a fun way to outfit yourself for your honeymoon and your bridal boudoir portraits just make sure your maid of honor has your sizing and styling preferences in advance. Be sure to stop in to one of Richmond's local lingerie boutiques to be properly fitted and find unique bridal pieces.  When you schedule your bridal boudoir session with 422 Studio you'll be treated to a style consultation as well so you're not alone in the shopping process.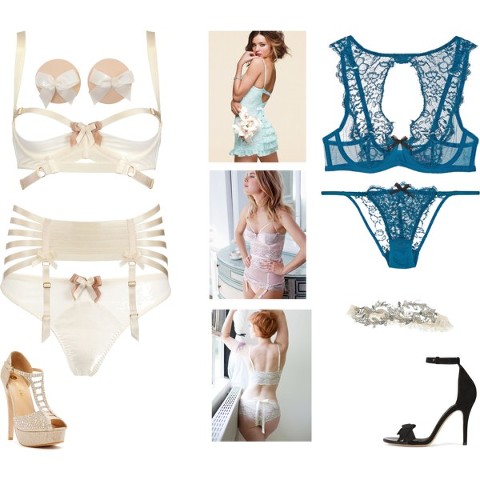 422 Studio was recently voted Best Bridal Boudoir Photography Studio by Richmond Bride Magazine so know that you are getting the best bridal boudoir services when you schedule with us.  See the links below to find the outfits in this post. 
Cream colored bra, garter, panty and pasties from the Bordelle collection available at Luisaviaroma http://www.luisaviaroma.com/index.aspx?#CatalogSrv.ashx|Season=actual&Gender=women&SubLine=&DesignerId=AIK&CategoryId=
Blue Lace Underwire Bra and Panty from Agent Provocateur http://www.agentprovocateur.com/
The outfits in the center are from Victoria's Secret https://www.victoriassecret.com/(top two) and Etsy https://www.etsy.com/ (bottom). 
Garter is from Journelle http://www.journelle.com/
Shoes: Chase and Cloe Misty heel in cream from Nordstrom Rack https://www.nordstromrack.com/ and Isabel Marant Play black suede sandals from Harvey Nichols http://www.harveynichols.com/
Be sure to check out some of my favorite local lingerie boutiques while you're shopping. 
Fiamour http://www.fiamour.com/
Kiss and Makeup http://www.kissandmakeup.com/
Hush http://hushfinelingerie.com/
Derriere De Soie http://silkybottom.com/
422 Studio is located in Richmond, Virginia. Offering boudoir photography services for women and couples.