I'm so very excited to be revamping my glamour portrait services to include Expressive Portraits. The portrait style I'm working on is dramatic, emotive, connected to the viewer.  This means I'll need current work that reflects the nature of this type of portrait work. I'll be using the images to update the "Glamour" portion of my website to reflect this new look. I've put together a Pinterest board to give you an idea of what I'm looking to achieve. This Monday Muse is open to a wider range of people as well since I'm doing a complete revamp on that portion of my site and I'll need lots of images to fill it. All of the details for this Muse session can be found below. It is set up a little differently than prior Monday Muse sessions so be sure to read all of the details.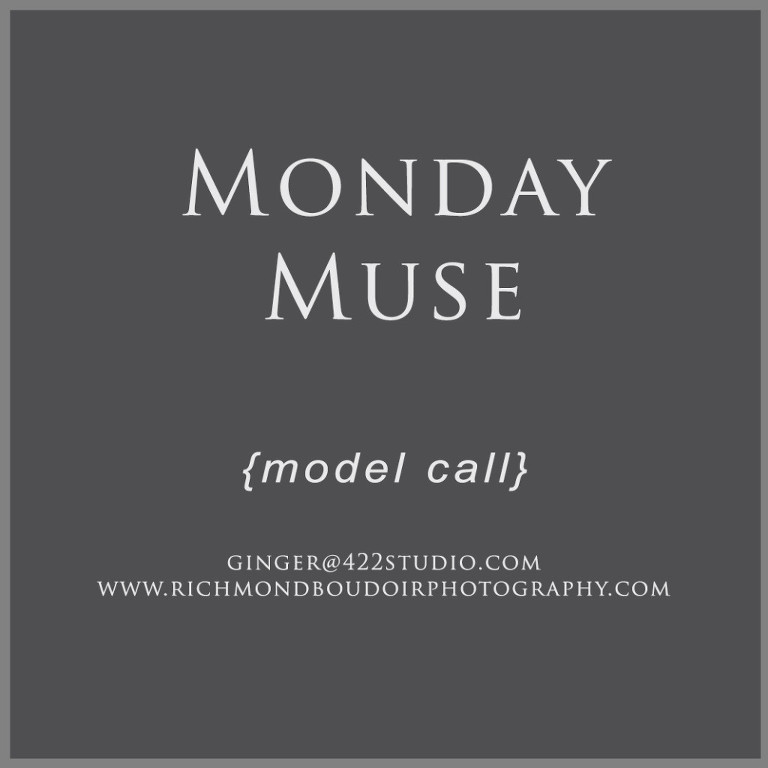 Details 
Who I'm looking for: This month I am looking for several adventurous women, age 18-50, who want to step outside of the selfie zone to work on a project with me to capture your true beauty. You will need to be available on a week day (no Saturdays) in July or August. These sessions will take place in my Richmond, Virginia photography studio. Makeup and hair styling is included in the session and we'll be taking a minimalist approach to keep the focus on the emotion captured in the portrait. You will need to supply your own wardrobe, which we'll discuss before we schedule your date. Wardrobe should take inspiration from the pin board I've created for this month. Again I am wanting to create expressive portraits (head shots) for my website galleries, formerly my Glamour galleries. These Muse sessions are not boudoir exclusively, though we will create boudoir images and portraits that end up expressing  your sensuality.  I need all ethnicities, ages and body types so please step out of your comfort zone with me and lets create an amazing portrait you'll be thrilled to share. 
What's in it for you:  These are not free sessions. They are not TF sessions for aspiring models.  I won't edit or use any images that you don't ordered and the minimum investment with me is $500*. I offer these Muse sessions because it's important to me that the images on my site to be of actual clients rather than professional models. What's in it for you is that you have the opportunity to collaborate on a unique portrait experience with Richmond's own, award winning, boudoir photography studio, with nearly 10 years of experience working with women of all backgrounds. You get to spend the day being pampered with hair and makeup styling and having a confidence building portrait session.  We'll create gorgeous images that you'll proudly display and cherish for years to come. Your session fee, which is normally $350, is on the house as a thank you for being my Muse. You do pay a makeup fee of $50, however, it's credited back to you as product credit on your order.  That $50 in credits is to use toward the purchase of your album, wall art or digital files on the day of your session. Plus you'll be a part of helping other women feel safe knowing their portrait experience will be amazing too. Now if that's not reason enough to do this then I'm not sure what is.
You must:
be willing and able to sign a full model release for these sessions. NO exceptions!
be 18-50 years of age
be available to shoot in July or August 2016
pay a $50 makeup fee (remember it comes back to you as product credit for use only on the day of your session)
be a new face to the studio so if you've done a session with me in the last 12 months you're not eligible
be willing and able to acquire wardrobe with the look/feel of the pinboard for the month
I will be using the images you order for your album, wall art etc., in my portfolio, studio samples, website, social media and where ever else I may need them.
Here are the steps for signing up for this months Monday Muse session.
Go take a look at the Pinterest board. If these ideas excite you go to step 2.
Email me ginger(at)422studio.com to send me 2 pictures of yourself. 1 headshot and 1 full body shot.  Send pictures with no filters or editing and with your hair down. Also tell me why you think you'd be a good fit for this months theme.
When you have done step 1 and 2 I'll send you the Monday Muse questionnaire, please fill it out ASAP openings in my muse sessions fill quickly.
I will review all completed questionnaires and chose the women that I think fit the project best.  You will be notified via email if selected. I will chose my Muse clients by July 20 so you only have about 9 days. Don't delay!
$500 minimum investment reflects the purchase price of my mini-book with 12 images less your $50 credit. 
422 Studio is located in Richmond Virginia and serves the DMV area and beyond. Providing boudoir and intimate portrait photography for Richmond, Hampton, Newport News, Williamsburg, DC, Charlottesville, Virginia Beach, Fredericksburg and ladies all over the fine state of Virginia.