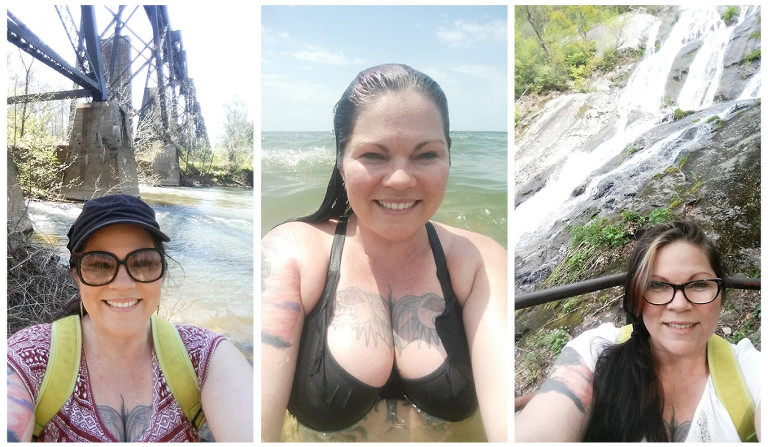 Those of you who know me may know that I've been struggling with back pain issues for a while now. Recently I found out that I have a fractured vertebrae and one of my disks is basically gone. This sucks! On top of sucking, it makes it painful for me to stand for long periods of time. Plus I don't get to do some of the things I love most, like hiking on Sundays. It's just to painful to be up walking around for that long. I'm meeting with a neurosurgeon in the next couple of weeks and I'm hopeful that they'll have me all fixed up in no time. Keep your fingers crossed for me please!
In an effort to make my work day a little more comfortable I decided to introduce a small all inclusive boudoir package, The Jade. This session is kind of a boudoir quickie, if you will. It's a great way for you to get in for a quick session and then I'm not on my feet to long. It's perfect for women who want to do their own makeup and hair styling and print their own products. It's also great for those of you who just want a few images. I'll be offering the Jade sessions while I'm working through this issue and healing. Then when my back is all fixed up I'll go back to full day sessions being the norm. I am offering this package for a limited time. It's a quick session that includes 10 digital files, as a digital download, in the session fee. You'll get the same pre-session styling consultation and studio style guide that you would with a full day session. For outfits you'll bring one look and use the classic sheet set. Makeup and hair styling are not available for this session. You'll also see and order your images the same day and have the option to add products to your order from the studio al a carte menu. Take advantage of this session while you can before you know it I'll be all better and it will be all gone.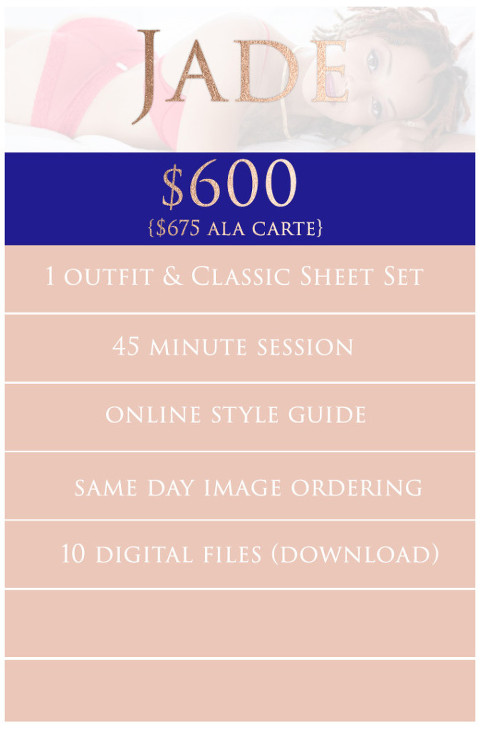 Boudoir sessions are still available that include hair and makeup styling as well as the option to bring more outfits.  I'll be adding an assistant to my team so you'll have even more pampering during your full day session.  Be sure to check out the all inclusive packages or if you'd rather build your own ideal session take a look at the al a carte session pricing.