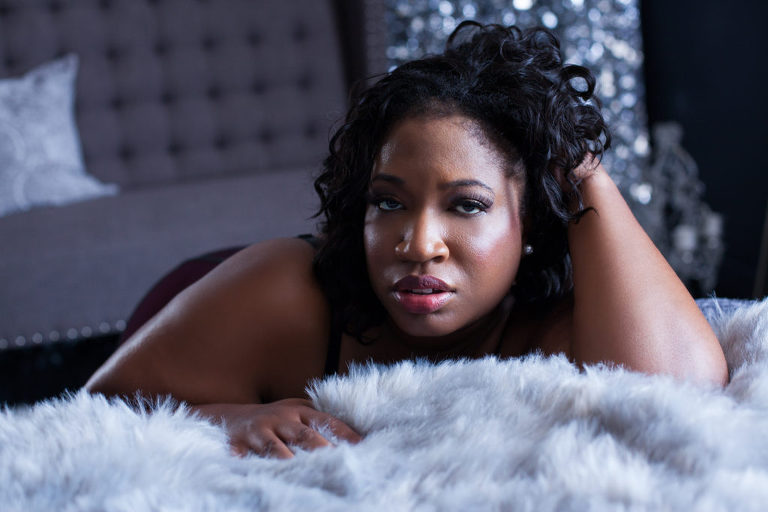 I myself am a curvy/full figure/plus size woman. I love that us bigger women can search out things we need easily by using the terms curvy or plus and let's be honest voluptuous is a lot harder to spell and when you're shopping for jeans online curvy/plus is there like a google assistant to help you find things that fit.
A while back I put out a Monday Muse call asking for curvy, plus size, full figure women to do a boudoir photography session with me. Muse sessions are sessions where I get to share the images we create that day. I get asked often if I shoot bigger women and the answer is YES!!! I love my curvy clients! I hear many plus sized women say that they don't think boudoir photography is for them because "I'm to fat and the women on your site are not big like me". I hated hearing this. It bummed me out. I needed curvy women to come in to do a session so that other women could see them looking and feeling gorgeous and in some way get permission to be sexy and feel beautiful themselves. I know I would be hesitant to work with someone who didn't represent me on their site. I would be afraid they wouldn't know how to pose my body in flattering ways. I want anyone who comes to do a session with me to feel like I've got her taken care of. I've been doing this for over 10 years now and I want you to be able to trust that you're going to get amazing images from your session regardless of your measurements.
Luckily I got 2 wonderful women who were excited to volunteer to show the rest of the world that boudoir is for ALL shapes and sizes. There is no weight or BMI requirement to do a session with me. You can do a session with me today. As you are. Not just when you've lost that 5, 10 or 50 pounds but right here, right now, right where you are today. We all want to look dam good in our lingerie and feel sexy. I want you to know that boudoir is for you too. I will guide you through selecting wardrobe, styling tips, poses and expressions too. Don't worry! I've got you covered.
Miss T's boudoir session is the first of these 2 sessions that I get to share. I really hope that she inspires more women to follow suit and let me share their curvy boudoir session. Or maybe she'll just inspire you to come in and do your own session. BTW you are never required to share images from your session. Your privacy is important to me and I don't share anything I don't have permission to share.
Contact me today and let's get planning your dream boudoir session.
Apologies, but we were unable to find what you were looking for. Perhaps searching will help.
Her outfits were found at:
Black bra and pantie set Kiss and Makeup Richmond (black lace robe is studio wardrobe)
Red/Merlot slip: Torrid Short Pump Towne Center (studio wardrobe)

Richmond boudoir is located inside 422 Studio in Richmond Virginia. Specializing in intimate portrait photography for women.