I am so excited to share today's post. I ran a Muse call earlier this year asking for plus size/curvy women to do boudoir sessions with me that I could share. I needed a couple of awesome women who would be willing to share their boudoir session photos with the world. I got exactly what I was looking for. Bad-ass ladies who wanted to help me show the world that beauty isn't the realm of one specific body shape, age, race, or hair length. So many of us ladies struggle with the reflection in the mirror because that beautiful woman staring back at us does not look like the women we see in the magazines, on TV or being Instafamous.  Representation matters!! When all we are exposed to is "one size women" it's hard to feel normal, let alone beautiful, in our own skin. I could go on and on about this topic because I am a plus size, curvy, big girl myself. Learning to love a body that looks nothing like what I see in advertising has been a journey years in the making. Sometimes I STILL struggle to see how beautiful I am, even with a husband who tells me every single day how beautiful and sexy I am (and touches my butt ALL THE TIME <– not a complaint)  it can be hard to see it myself. I firmly believe that when you see yourself reflected in another woman's fearless self love that shit rubs off on you and you can more easily start the process of loving yourself just as you are today.
In case no one told you today YOU ARE FUCKING AWESOME!!!
Now I'll let Miss A tell you a little bit about herself and her session. We both have love for Thai food so she wins bonus points for that.
Q. What's your favorite dine out food? 
A. Thai Drunken Noodles with Chicken, The spicier the better!!!
Q. Favorite band? 
A. Tie between Paramore and Triviaum
Q. All time favorite movie? 
A. Father Goose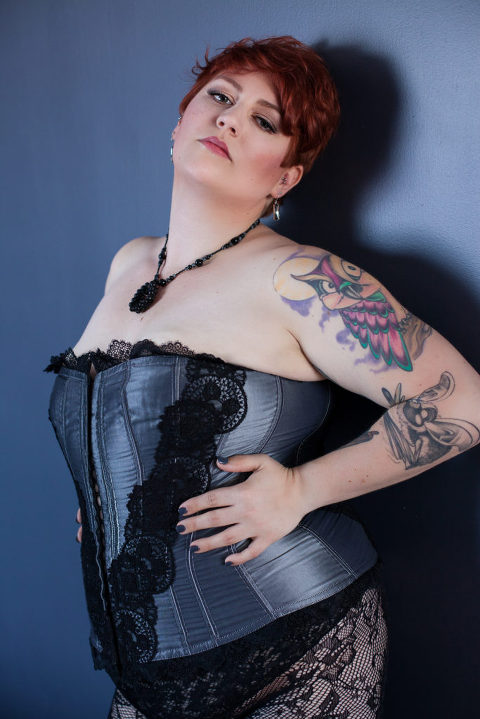 Q. Favorite piece of lingerie you brought for your session? 
A. That's a hard one! I love the black teddy I brought but I think my favorite would have to be the hand made corset
Q. Why did you pick me for to be your photographer? 
A. I had been following and looking up multiple boudoir photographers for a while trying to find one that I like. One that was creative, made their clients feel comfortable, wanted to create a vision together, and one who works with all types of bodies. You want to show REAL woman, the everyday woman, yes you work with models but you also work with a lot of people just like me!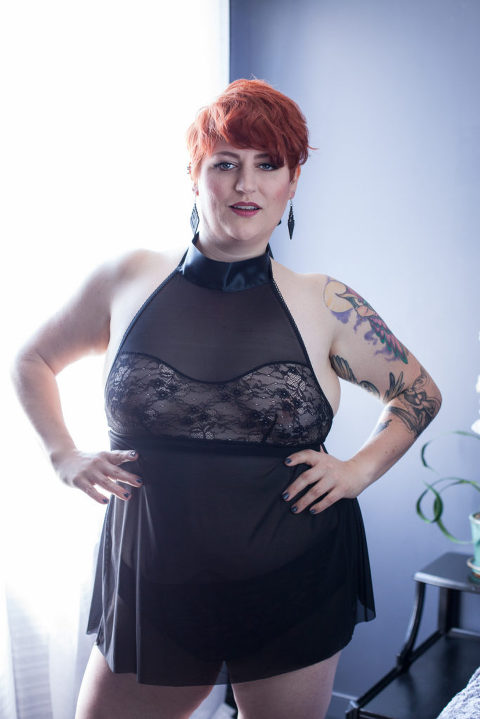 Q. What prompted you to do a Muse session rather than a private session? 
A. I came across you and your work by accident on Instagram one day and when I saw your work I fell in love. I was actually not planning on doing a boudoir shoot for a couple of year. I told myself that when I go to my "ideal weight" that I would reward myself with boudoir photos, but then I saw your muse post for plus size woman and the more I thought about it the more I keep saying why wait? I love myself and if I have the opportunity to show people that you don't have to hide your body, because people don't look at you like they do models in a magazines then I should so it. Being a plus size woman doesn't mean I am not sexy. Having short hair doesn't mean that I am not beautiful. Having some muscles in my legs and some extra rolls on my stomach is defiantly not the ideal of what people would think of when they think boudoir bodies, but I wanted to show people the beauty of what a real everyday woman looks like. I want other woman to know how beautiful they are. I want them to find what I found, the confidence to be happy and love their bodies no matter what other people think of it. I may have a flat butt, and some extra rolls on my stomach, but I also have killer legs and eyelashes for days! We all have things about us we don't like but we are all beautiful. The human body, especially a woman's body is a work of art no matter the shape, size color, age, or texture, I want every woman to have the confidence to get pictures like this done.
Q. What were you nervous about coming into the session? 
A. To be honest I was most nervous that you would want to cover me up more because I was bigger and maybe not use outfits like bra and panty sets. Then the thought occurred to me what if I don't like ANY of the photos!!!
Q. What was something you did to calm your nerves before your big day? 
A. I made sure to get a good nights sleep and rocked out to music the entire morning up until the moment I knocked on the studio door.
Q. What would you say to another women who was considering doing a session with me (Muse or private)? 
A. DO IT!!!! And remember to do it for YOURSELF!!! It will change the way you feel about yourself. You will feel so empowered ,strong, and sexy as a woman.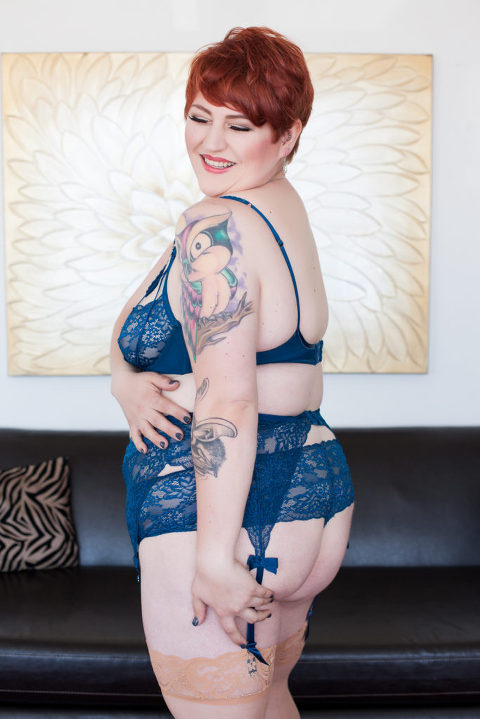 Q. What did I do for/with you that was most helpful? 
A. You were constantly there for any question I had. Any email was answered within hours. I also loved the prep sheet and the outfit meeting we had weeks before the shoot!
Q. How did you feel when you left the studio the day of your session? 
A. Like I could conquer the world! I felt empowered and found a new confidence in myself. Even other around me notice I seem even more confident in the way I carry myself.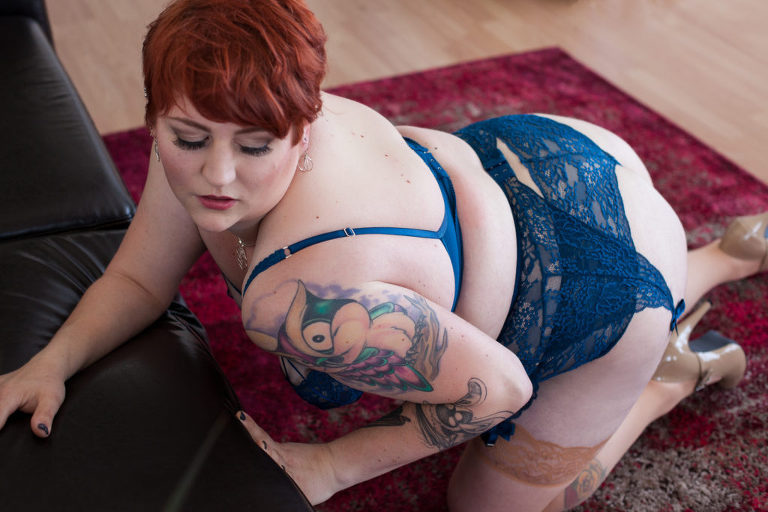 Q. What is the best thing you took away from your session?
A. I took away a great memory and experience of something that I did for myself and no one else. I got to be dolled up for a day and be taken care of and had the most amazing conversations with a fantastic woman! I couldn't have asked for more.
Q. What could I have done better? 
A. Honestly you made me feel right at home, you didn't push me to buy stuff, you were honest and up front about everything from the start.  I didn't feel rushed and if I asked for something you did it. You pay attention to all the small things. I cannot think of anything really. I just wish you and I had more free time to talk and work on other creative projects together haha!