Hi everyone,
I spent some time today updating our photo galleries. I've been very busy this year and honestly hadn't had a chance to get to that task on the list. As I'm diving into the start of summer I figured it was time. What that means for you is there are lots of new sample images in each gallery. I updated the main boudoir galleries, couples boudoir gallery and the between the sheets gallery. I also added samples of our fitness boudoir work.  Be sure to check out all of the new images and share the site with your friends. While you're at it you may want to subscribe to the email list so you can stay in touch and learn about upcoming events at the studio.
Another update I want to be sure to mention today is the update to the types of sessions we are now offering. We now have 2 session types to choose from our Petite (half day boudoir session) and our Deluxe (full day boudoir session). All sessions will still take place in our dedicated boudoir photography studio in Richmond, VA. Each session still includes hair and makeup styling as well as a style consultation. Each includes all of the email and phone support you may need before your session as well as the day of pose coaching and encouragement that you've always gotten with 422 Studio. No matter which session you choose you'll have access to our boudoir studio sets, props and accessories that you've come to expect with us. Today I'd like to show you a little more about our Petite Boudoir Photography Session. 
With the Petite Boudoir Session you'll be treated to one hair and makeup look and you may bring either, 2 outfits or 1 outfit and do the Between the Sheets set.
Here is an example of what you'll do if you choose 1 outfit and the Between the Sheets set.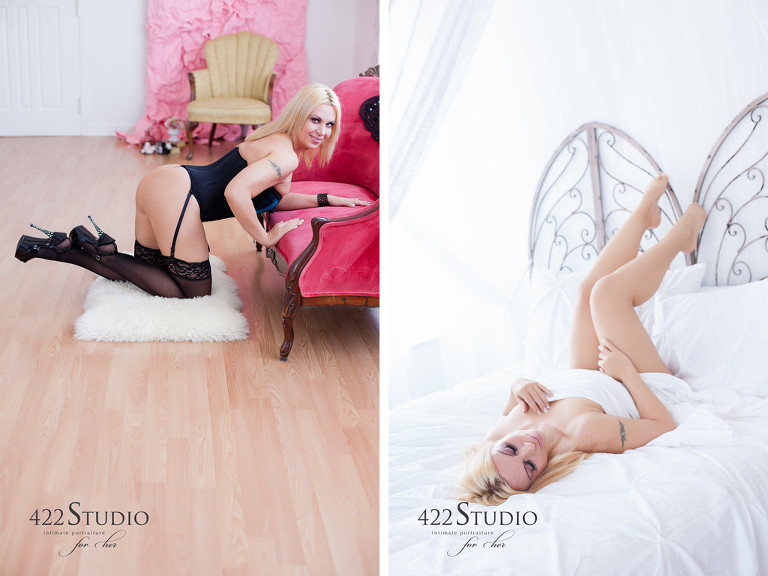 The Petite Session is available for you to schedule Tuesday through Friday and includes same day viewing and ordering of your images. It's great for the woman looking to schedule that last minute session. Brides looking for a unique grooms gift. Clients looking for a maternity boudoir session to capture the amazing transformation your going through. 
Be sure to view the Pricing and Investment page under the Session Information tab to see the complete list of what's is included in the session fee. 
The Deluxe Boudoir Session is a full day of pampering with 2 makeup and hair styling looks, 4 outfits and the Between the Sheets set.  I'll be sharing more on this session in an upcoming post.