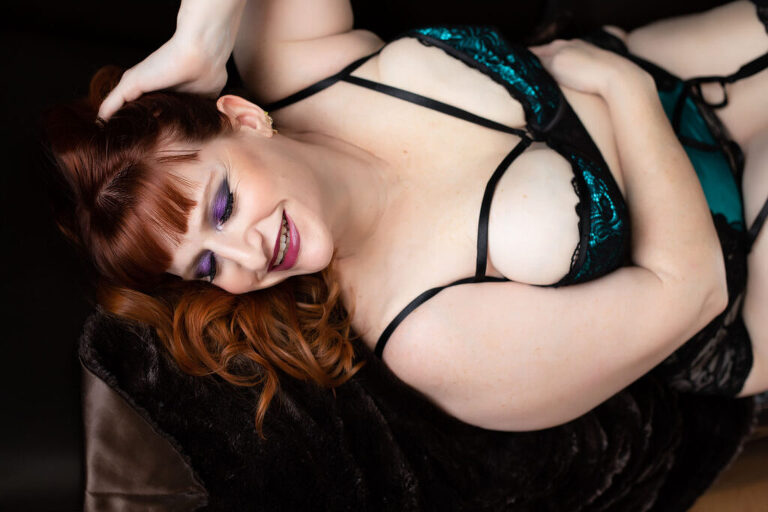 Oh girl! When I have a client come in and leave this "We all deserve to feel like the goddesses we are." when asked about what she would tell another woman who's considering doing a session. Bam! I've got all the feels. I KNOW that this experience is for EVERY woman. It's for every woman who has ever struggled to love her body, hell to even just not hate it. It is also for every woman who already loves the shit out of her body. Boudoir is for every woman! Regardless of where she is on her journey in her skin.
But I am biased so don't take my word for it. Listen to what Miss J has to say about her experience.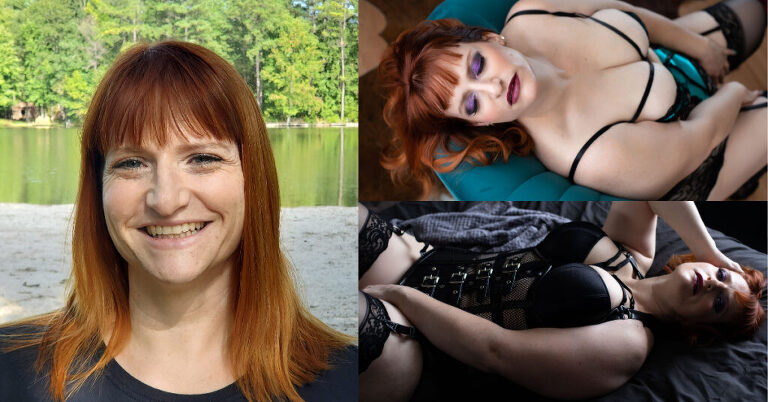 Read on for Miss J's interview!
Q: What was your motivation/reason for doing a boudoir session?
A: I scheduled the session as a gift to my husband for his 40th birthday. We talked about it ahead of time, so he knew I was going to do it, but he didn't get to see any of my outfits or be there for the shoot. Instead, he came with me afterward and picked out the pictures he liked best. 

Q: What were you most nervous about coming into the session? 
A: I felt like I was going to hate my body in all of the pictures. The shoot itself wasn't a problem at all; I was so much more worried about viewing the pictures afterward. I honestly thought I'd look terrible in every shot and I stressed out about it for months. This was not a normal, everyday worry; this was me deeply and sincerely convinced that I'm unattractive and have no business taking photos in lingerie.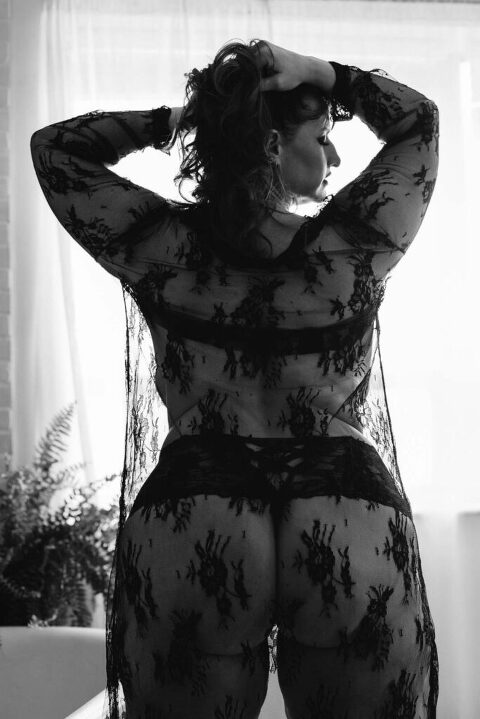 Q: How did you feel when you left the studio the day of your session? Immediately upon leaving the studio?
A: Tired, lol. It's a decent amount of work, posing for these shots! And I was so very nervous to come back with my husband to view the photos. But I was really happy that I'd gone through with the session instead of backing out. It felt like I'd accomplished something I didn't think I could do.

We don't see ourselves the way other people see us.

Q: What is the biggest takeaway you got from the session?
A: Can I have two? Hopefully I can, because I do. One, we don't see ourselves the way other people see us. A couple of my favorite shots completely focus on showing off my butt, which I've always thought was not good looking. Wrong! Turns out, I have a great ass. Who knew?! And two, I learned that when it comes to lingerie, I should just own it and go for it and stop worrying about how I look, because I actually look sexy and amazing. Yes, I've got rolls and cellulite and weight I wish I hadn't gained, but I've also got great boobs and a nice rear and an hourglass figure. I've been overlooking all of the positive aspects of myself and focused on the negative for so long, it's like the positives had completely ceased to exist until the session with you brought them back out to play.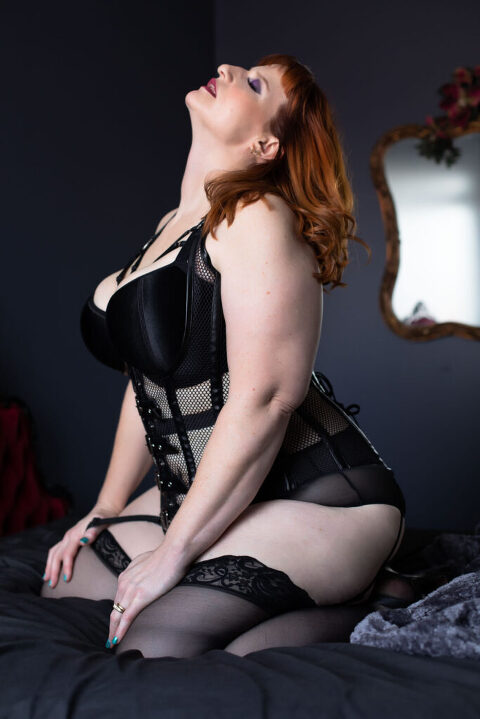 Q: Why did you select me to be your photographer?    
A: You shot my youngest child's newborn photos 8 years ago, and I loved working with you back then. Then I saw all the beautiful work you've done with your boudoir shoots via your Facebook group. On top of that, a friend of mine did a shoot with you and she told me it was amazing, so that sealed the deal.
You never made me feel like I was "doing it wrong"
Q: What did I do for/with you that was most helpful? 
A: You never made me feel like I was "doing it wrong" during the session. You were so patient with your explanations of what to do during each pose that I never felt like I was frustrating you with my lack of experience and/or understanding. Plus we talked like good friends do during the whole session, which went a long way toward making an introvert like myself feel at ease.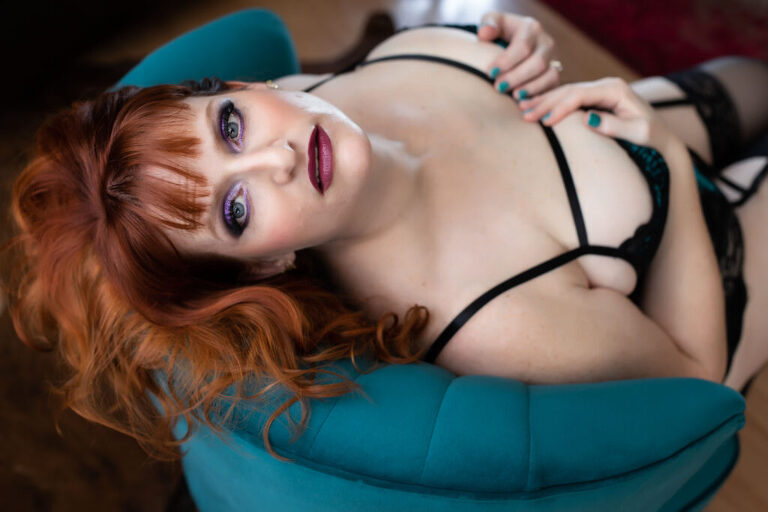 Q: What could I have done better? 
A: My only complaint was that I didn't realize how long I'd be actually on my feet in heels! My feet are whacked due to previous surgeries, so I wish I'd known ahead of time. I would've either talked to you about other options or taken some Advil in advance, lol. But truly, it was a minor, minor thing.
I felt so fucking badass in that!
Q: Which pieces of lingerie were your favorites and where did you find them?
A: Oh man, the lingerie was a journey! I ordered from so many websites. Being plus sized with a ridiculous bra cup made it hard to find pieces that were well-fitting and supportive while still sexy. My absolute favorite is the mesh/buckles underbust corset with the strappy bra. I felt so fucking badass in that! I ordered it on the advice of my best friend, who apparently saw something in me that I didn't see in myself. But once I tried it on, that was it; I loved it and was keeping it and wasn't going to question it, lol. Overall, I bought and returned so much stuff, but I ended up with 3 outfits that I was truly happy with. I'll just list what I bought and where, because it's all over the place! And I'll link the pieces that are still available.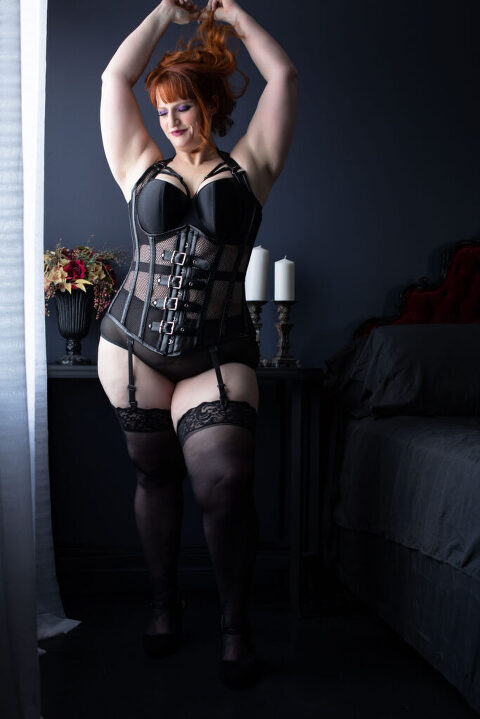 We all deserve to feel like the goddesses we are.

Q: What would you say to another woman who was considering doing a photo session with me?
A: We all deserve to feel like the goddesses we are. Don't put it off until you've lost weight, or until you reach some random goal. Just do it. When you find out how sexy and gorgeous you actually look, you'll be changed forever. And hey, if you hit that goal somewhere down the road, do another shoot! I am already planning my next one. But don't hold off because you think you're not ready. Go. I promise, you're going to feel so incredible afterward, you won't even know what to do with yourself
Shopping details:
Black lace robe from Amazon: https://smile.amazon.com/gp/product/B076BQN8D9/ref=ppx_yo_dt_b_search_asin_title?ie=UTF8&psc=1
Purple undies from Lovehoney: https://www.lovehoney.com/product.cfm?p=43964
Black mesh/buckles underbust corset from Sexy Shoes (they have a ton of great lingerie!): https://www.sexyshoes.com/products/td-429-plus-size-corsets?variant=18723769516089
Strappy black bra that went with the black corset from City Chic: https://www.citychiconline.com/plus-size-vixen-demi-uw-bra-201590black
Teal and black bra/panties/waspie set from Spicy Lingerie (www.spicylingerie.com)
Black undies for each outfit came from Herroom.com, and the shoes are from Zappos.com
Are you ready to see yourself? You also deserve to feel like the goddesses we are. Contact me today, right here