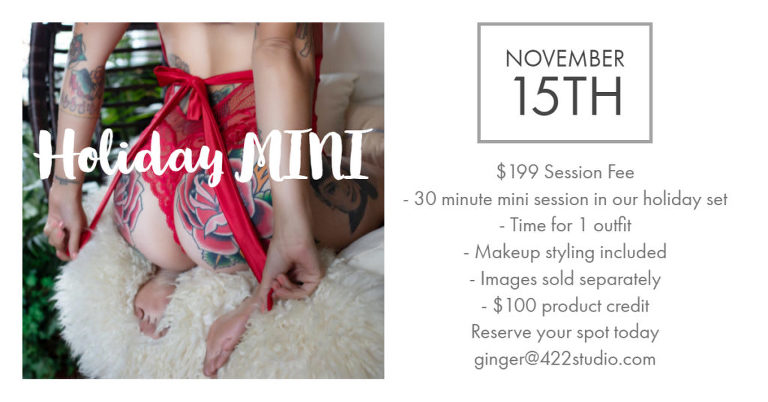 Holiday boudoir mini sessions are now open for booking! November 15th is the date
BOOKING ENDS NOVEMBER 6.
This is the only mini session date that will be held this fall. There are limited spaces in these sessions so check your calendar and then email me to request a product guide and to reserve your space. ginger@422studio.com
What's included?
$199 Session Fee
30 minute mini session in our holiday set
Time for 1 outfit
Makeup styling included
Images sold separately
$100 product credit
Reserve your spot today
ginger@422studio.com
FAQ:
Q: Will you be doing another sale before Christmas?
A: NO! This mini sessions is it. So grab your spot!!
Q: Is makeup and hair included?
A:Makeup is! Arrive with your hair styled how you'd like to wear it.
Q: Do you supply my outfit?
A. Not for mini sessions. No time to launder between clients = no one wants that. We will do a style consultation prior to the session to give you ideas of what to wear.
Q: I wasn't planning for this but it's such a good deal. Do you do payment plans?
A: Always! I offer interest free payments on product orders over $800 after your session. Email me and let's chat.
Q: Will anyone else be present during my session?
A: Kind of. While you're being photographed someone else will be in the makeup room with the lovely Emily Steele glamming you up! The rooms are separated but it is very likely you will see other ladies in the studio during the mini dates.
Q: What's a product credit?
A: Think of it as credit to spend in my "store". Products like digital files and albums are not included in the session fee. The $100 credit gets applied to those for you so you have some "free money" to put toward your image order at your image reveal. (disclaimer- $100 credit can not be redeemed for cash)
Q: Sign me up!! How do I book?
A: That's easy! Email me at ginger@422studio.com and I'll send you the product guide and we'll set up a call time so I can answer your questions and collect your session fee ($199) and get your time all locked in.