Tried and True photography for women. This is an unspoken goal with each boudoir session I do. When you are told you're "tried and true" that's a huge compliment. After 12+ years of serving Richmond, VA women I'm honored that my clients feel this way. This year I have had the pleasure of photographing several of my kickass clients for a second, or third, time. I LOVE when clients come back for more. We get to have all the fun without all the nerves. Miss A was coming back for session number 2 and this time I get to share!!! I'll let her do the talking though since she was willing to answer a handful of questions for y'all.
First up! Outfits, everyone always wants to know this info. 
Q: Where were each of your outfits from? The pieces I brought like the feather cape, long lace robe, etc were actually from the Wish App & I had some surprisingly good luck with some fun things. All the panties were from Victoria's Secret. I loved the strappy ones. Not functional,  but cute. The fresh water pearls came from a local jeweler named Sandy Miller.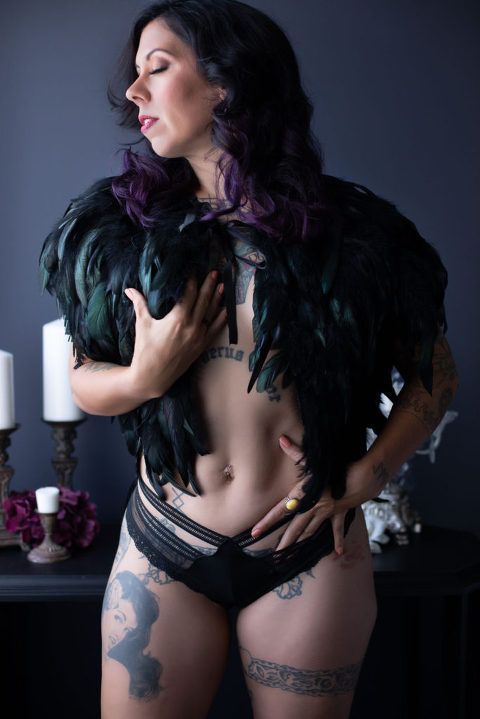 Q:Which one was your favorite and why? The black iridescent rooster feather cape 100% at first I felt silly in it but the pictures came out great.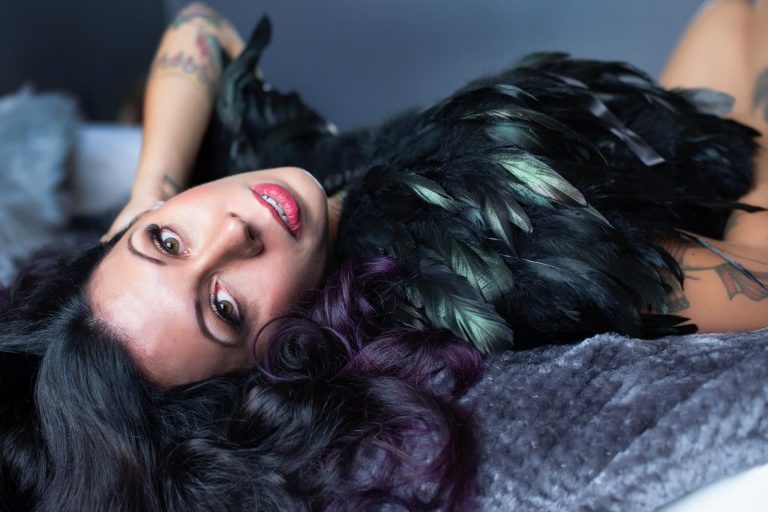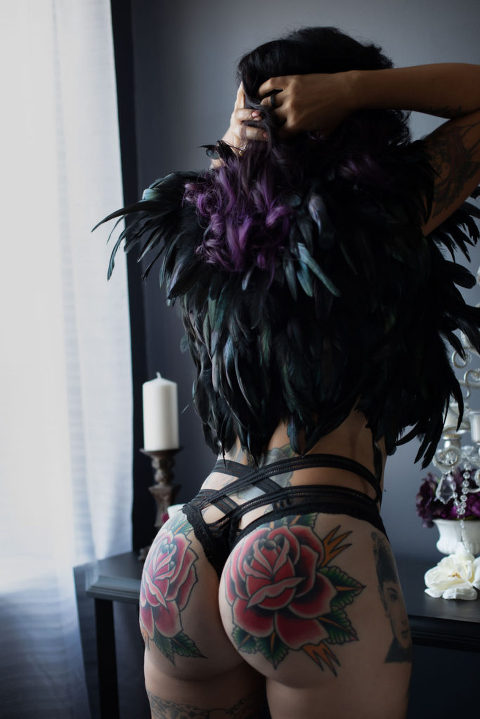 Next is all about you! 
Q: What was your motivation for doing a boudoir session?  We all age, fact of life, I plan on doing these periodically till I'm old and gray to remember  these days. 
Q:  What were you most nervous about before the session? I was concerned about not knowing how to pose, stand etc but Ginger basically takes charge and guides you 100% of the way so there's really nothing to worry about at all. It's fun, and the pictures come out amazing.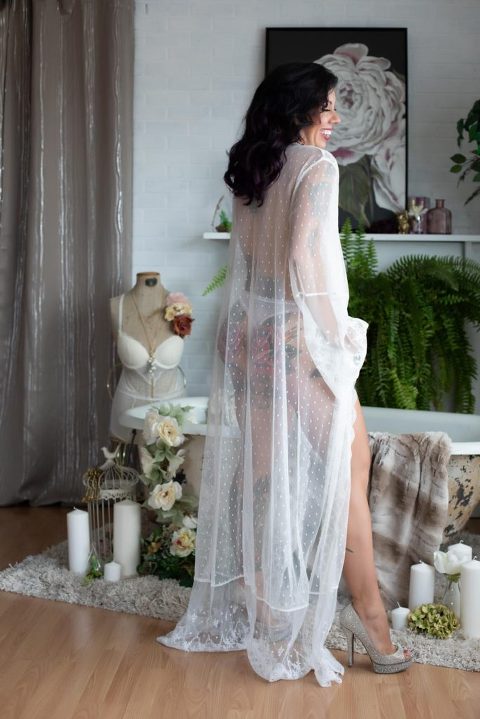 Q: What helped to calm your nerves before we started? This time I wasn't  so worried & was very excited.  The first one I was afraid that because my body isn't perfect I was going to hate them but I loved them.
Q: What would you say to another woman who is considering doing a session? DO IT NOW!  It's one of the best things I've ever done for myself I thing & i always feel GREAT for days afterwards.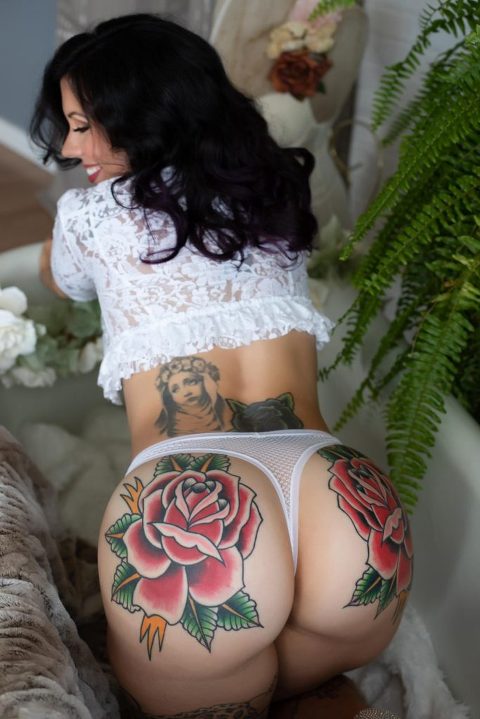 Q: How did you feel when you left the studio the day of your session? So amazing,  after both my sessions i was so excited about how my hair and makeup turned out i went out with girlfriends afterwards. 
Q: What is the best thing you've taken away from working with Ginger? It was the first time I've LOVED photos of myself so I've taken away kind of an evangelism for her work and I ALWAYS tell my guy friends "can't decide on a gift? Buy this for your wife/girlfriend/etc" it's a blast and my man loved the end results.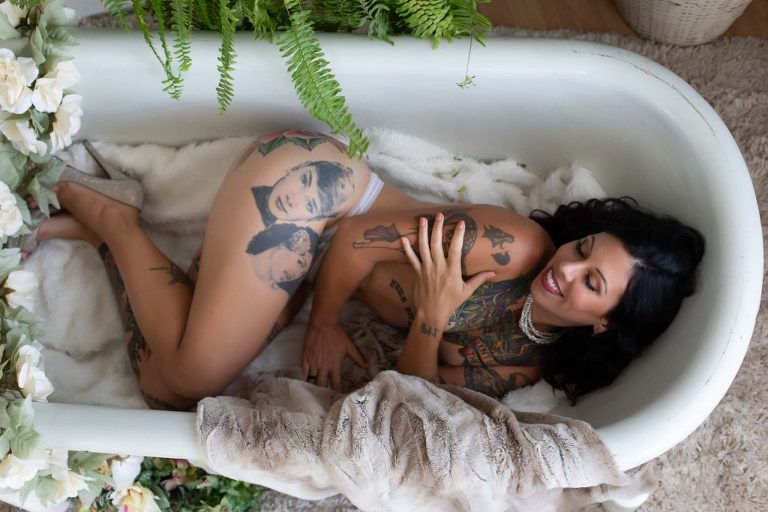 Last are questions about the studio. 
Q: Why did you select Ginger at Richmond Boudoir to be your photographer?  Tried and true, from examining others in the area I think she's probably one of the best and most experienced.  I also wanted my photographer to be a woman & it made me much more comfortable.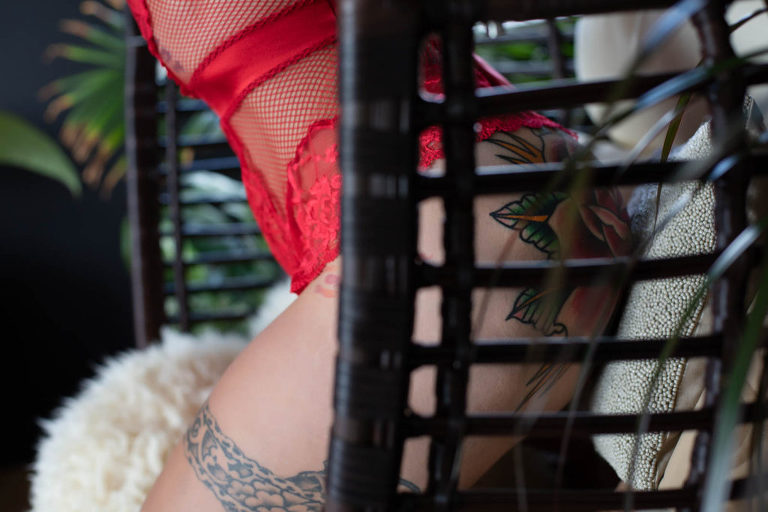 Q: What did we do with/for you that was most helpful? Moving me around to get the best shots in the end. Some poses felt ultra awkward and weird but the results were incredible. Extra wardrobe choices at the studio were a bonus too.
Q: What could we have done better? Nothing on the studio end. I wish I would have had a clear schedule.  I would suggest taking the day off to yourself so you can relax and enjoy the whole session and have fun.🖤🖤🖤
Are you ready to have your own tried and true photography for women, experience? Reach out to me today. Richmond Boudoir is located in Richmond VA.
I look forward to chatting with you,
Ginger