The Naturally You Boudoir session is refreshing to shoot because it allows women who just don't identify with a full glam look to have a boudoir experience more tailored to their own personal styling and comfort level. Makeup and hair styling can be a lot of fun and for some women that's how they feel sexiest but for those who align more closely with a natural look we offer this session type. No makeup, no fuss, just you, in your natural gorgeousness.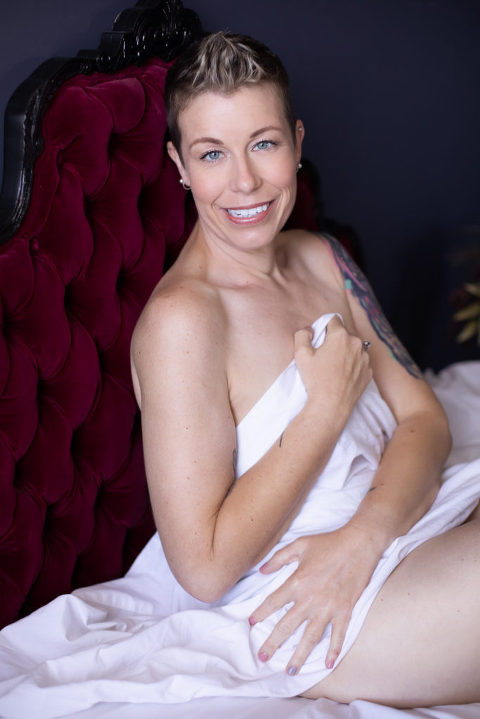 Tell us about you! 
Q: What was your motivation for doing a boudoir session?  
I've been plus sized my whole life. And as I crept closer to 40, it began to catch up with me; the beginnings of high blood pressure and high cholesterol. It was time to do something about it. In June 2018 I underwent weight loss surgery. Over the course of the next 12 months, my body changed drastically. It's a HUGE life change. Trying to relearn what and how to eat. Hormone releases from the fat loss. Saggy excess skin. Your body is foreign and strange and hard to love. I became depressed and generally unsure if I had made the right decision in having surgery (very common feelings after surgery). To get out of my funk, I promised myself that at my 100lb loss mark I would do something way out of my comfort zone and/or felt my obesity kept me from experiencing in the past. I narrowed my choices down to skydiving or boudoir session. Ginger won 😉 My shoot was almost exactly one year to the date from surgery and I was down over 100lbs since surgery, more than 135lbs from my heaviest.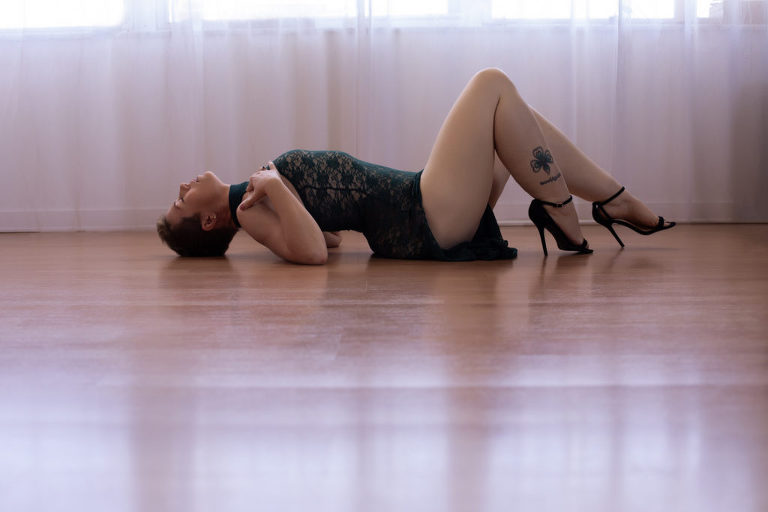 "Do. It. Run, don't walk straight to that studio and work it, mama!"

Q:  What were you most nervous about before the session? 
I really wasn't that nervous. Between all of Ginger's emails and phone calls before the shoot, I felt prepared, at ease, and knew basically what to expect. Being semi-nude (and at times mostly nude!) around her didn't feel awkward at all. She's a professional and never once did I worry about what she was seeing. She knew my reservations about my excess skin from my weight loss and she provided suggestions on poses to help minimize it and even tucked my Bingo Wings in from time to time! 
I was a little nervous about choosing to do the Naturally You Boudoir session, where you're not all professionally glammed up. I had to do my own hair and makeup. I think I probably wore more makeup than Ginger was expecting/desired for the shoot, but it was MY natural state. I'm one of those people who ALWAYS has some makeup on. Even when I sleep. Even after 16 hours on my feet at the hospital, makeup is always on point. So I'm far from bare faced, but what you see is my every day look. Nothing more, nothing less.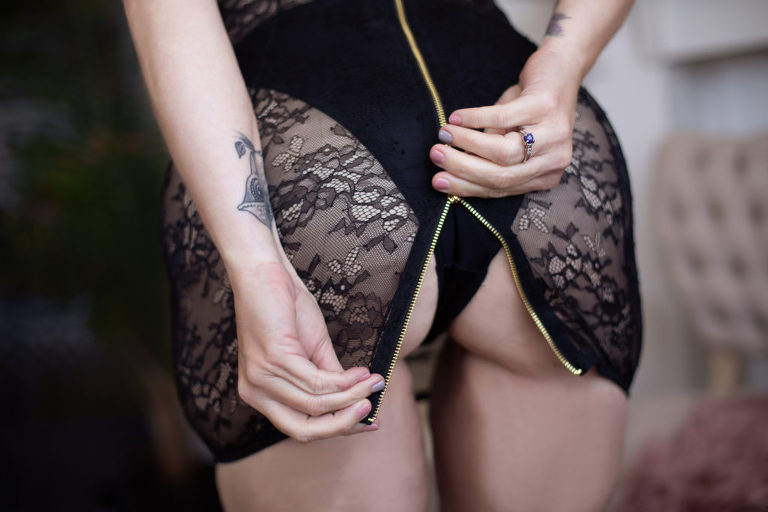 Q: What helped to calm your nerves before we started? 
The minute you walk in and see her clean, shiny, private, professional space (and not some shady rented hotel room, etc) you are already relaxing. She locks the door so no one is going to walk in on you. But the biggest calming factor…Ginger!  She instantly radiates calm and confident vibes that just put you at ease. Laughing, joking, curse words! Just what I needed to break the ice! 
Q: What would you say to another woman who is considering doing a session? 
Do. It. Run, don't walk straight to that studio and work it, mama! I am so very glad I chose this and not skydiving!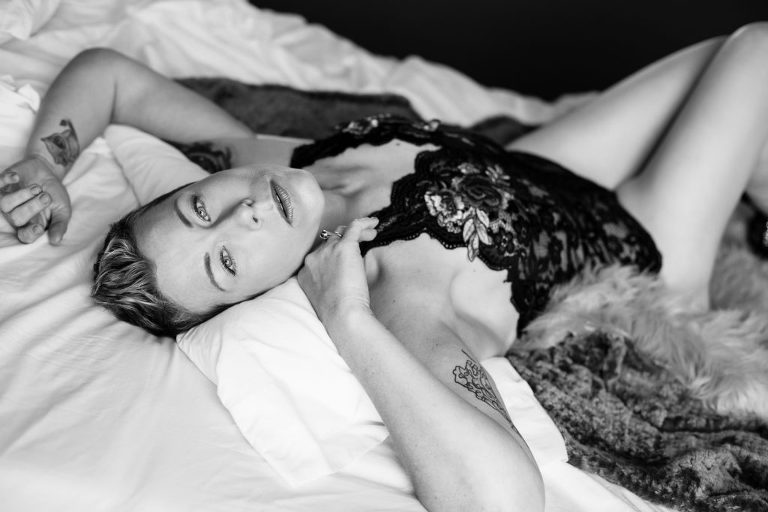 Q: How did you feel when you left the studio the day of your session?
Like a vixen! I was floating as I left. She shows you the rough images right there and they were a million times better than I could have ever imagined. They made me feel confident, empowered, feminine, sexy. 

Q: What is the best thing you've taken away from working with Ginger? 
She helped me to learn to love myself again. No matter my weight, age, piercing, tattoos, scars, saggy skin, etc. I love them all and the stories my body tells.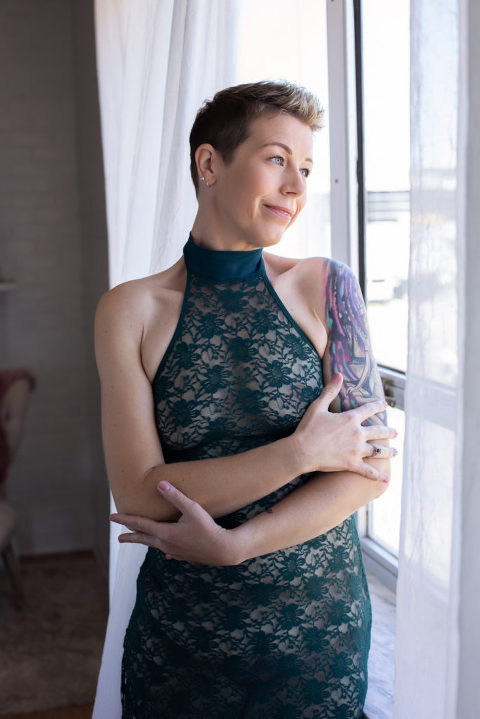 Last are questions about the studio. 
Q: Why did you select Ginger at Richmond Boudoir to be your photographer?
I've always loved pin up style lingerie /photography. One of my coworkers did a pinup shoot with Ginger probably 10+ years ago, so I have followed 422 Studio and Ginger's work since then. She did this same co-worker's maternity shot, family photos with the birth of all her children. All of the photos were beautiful. And anyone that has ever worked with Ginger had nothing but rave reviews. 
Q: What did we do with/for you that was most helpful?
The emails and suggestions on how to prepare for the shoot were most helpful. From where to shop, to waxing/shaving, tanning, teeth whitening, etc she covers it all

Q: What could we have done better?
I am a firm believer in constructive criticism. "If you don't tell me its broken, I can't fix it" so I will be brutally honest to help someone improve. That being said, I truly, truly have NO suggestions on improvements. The whole process was pleasant, professional, fun!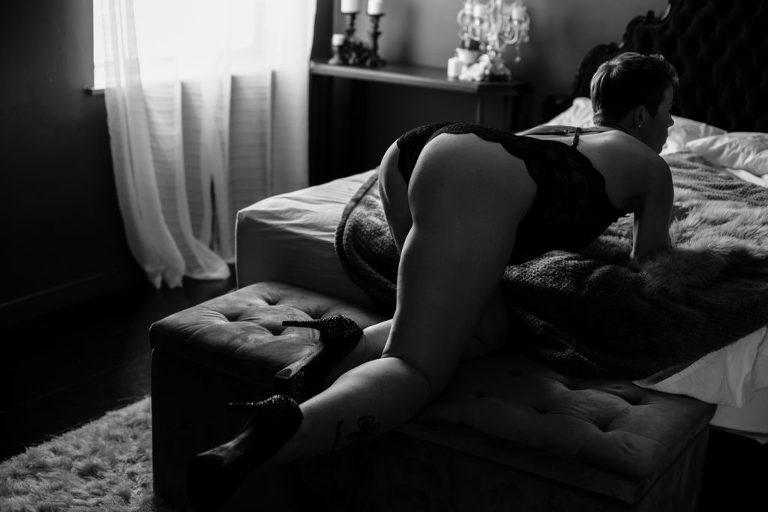 Outfits, everyone always wants to know this info. 
Q: Where were each of your outfits from? 
Green high neck lace gown $17 on Amazon! https://www.amazon.com/dp/B074PN8LTH/ref=cm_sw_r_cp_apa_i_0CZNDbVBB3ED3
Zip up Lace Chemise $40 La Senzahttps://www.lasenza.com/us/us/pd/lace-chemise-11146457s.html
Black bodysuit with roses…$9! from Shein (one of those Chinese clothing sites from Facebook) https://m.shein.com/us/Criss-Cross-Scalloped-Trim-Appliques-Teddy-Bodysuit-p-603855-cat-1862.html
Q:Which one was your favorite and why? 
I feel like the green high neck, long gown was made for my body! I hugged my curves perfectly and I love the peek-a-boo of the lace. And that neckline was different. To be honest, I wasn't in love with the green, but I wanted something that wasn't black like my other outfits. And I'm not bold enough for red. But the moment I put it on, I fell for it.  
Ready to book your own Naturally You Boudoir session? Or Glam! We've got you covered either way. Email me today!