I don't know about you but I'm actually getting really excited for 2017. I have set some pretty big goals for myself for 2017, both at work and for me personally. One of those work goals is to bring the boudoir photography experience to over 100 women this year. That's a lot of photo sessions and when I type it out it seems like so many and that makes me really happy. I'm getting a jump start on that goal by offering a boudoir marathon/mini session this January. This is a one day event, January 28th, and it's only open to 4 women. Come join myself and makeup artist Nicole Lauglin in getting glammed up and creating a very sexy gift for your Valentine this year.  Scroll down for all of the details.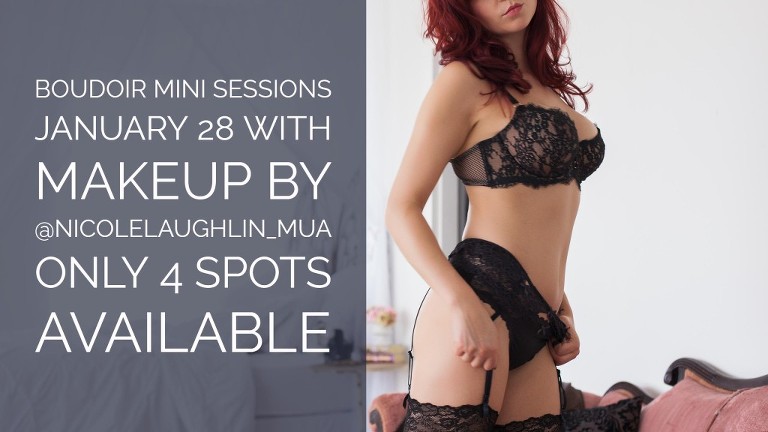 Details: 
The session fee is $300 
Your session will take place in my dedicated boudoir photography studio, located in Richmond VA, on January 28th.
There will be just 4 openings with the first starting at 9:30am.
Bring your favorite lingerie outfit, the one you feel most sensual in.  We'll also take time to capture your sexy strip tease down into our classic sheet set. You'll have about 30 minutes in front of the camera.
Nicole will get you all glammed up with a makeup makeover, including false eyelash application. Arrive with your hair styled how you love it.
You'll receive 3 fully edited, print ready digital files as a download as part of your session. Of course you'll have the option to purchase additional products.
Once you've finished strutting your stuff at your session you'll head out for a break and return to the studio that afternoon for your private, in studio, image reveal This is where you'll select your 3 favorite images and have the opportunity to purchase additional digital files, albums and wall art.
This is the perfect way to create a unique Valentines Day gift for your lover or to treat yourself to something special. Contact me today to secure your space. Half of the session fee is due to reserve your time slot. The remainder is due the day of your session. You're going to have so many images you love that you'll want to come prepared to select more but 3 is a good start.
My studio is located at 2405 Westwood Ave suite 201 in Henrico, RVA's near west end. I can't wait to meet you!
Ginger
422 Studio